English & Literature
Here we'll feature classic and working-class literature--and Marxist critiques of both. We'll also encourage new writers and poets with creative writing workshops, reviews and other projects and forums
Who was Dashiell Hammett? One-Hour Video Discussion of the Maltese Falcon
DukeReads: Michael Malone on Dashiell Hammett's 'The Maltese Falcon'
Access Here
For a free download of a Hammett short story, 'Arson Plus,' go
HERE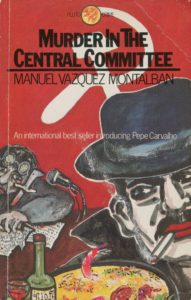 RADICAL NOIR: 26 ACTIVIST CRIME NOVELS
Revolutionaries, Agitators, and Organizers in Crime Fiction Some subject matters and historical settings naturally lend themselves to radical politics. Crime fiction has often had a sympathy and respect for the down-and-out and oppressed. If noir is the moment when obsession and belief turn to action, when inertia is disrupted, then it should be no surprise that the actions of revolutionaries, organizers, and activists drive many a plot.
Eight Tragedies of Shakespeare: A Marxist Study
Book Study: In this companion volume to Shakespeare: Poet and Citizen Kiernan sets out to rescue Shakespearean studies from the increasingly solipsistic terrain of literary criticism, focusing instead on historical location as a means to understanding Shakespeare's writing. Karl Marx himself was a great fan of Shakespeare, as summarized HERE in an article.
Access Here
The Lennie Moss Mysteries: Tales of a Modern Working-Class Hero
Tim Sheard's hero is a union shop steward as a moderm Ms. Marple. The author provides realistic details of hospital routine and budget-cutting politics. Other bonuses are polished prose and elements of warmth and humor. Strongly recommended for most mystery collections.
The Adventure of English Eight 50-minute video episodes covering the birth of the English language as a hybrid to its globalization
Access Here
Maya Angelou on Life and Literature
50-minute interview in five parts. Armstrong Williams interviews writer and poet Maya Angelou. Maya Angelou is considered to be one of the greatest voices of contemporary literature. Armstrong Williams gives and in depth interview of the life of Maya Angelou. Maya Angelou talks about what is was like growing up. You will be surprised at the shocking trials Maya Angelou had when she was younger. Maya Angelou gives great insight on how she became the Maya Angelou of a contemporary renaissance.
Access Here
THE HANDMAID'S TALE
  author Margaret Atwood discusses her dystopian classic and being a consultant on the hit Hulu series based on it. Atwood reflects on using fiction and essays to warn about authoritarianism, climate change and other dangers.
HERE