A life mesmerizingly truncated, James Dean left behind only three films, and the gaping absence of the career that might have been.
Even though he only made three films, James Dean introduced Hollywood to a new kind of man: Photo above: Hulton Archive/Getty Images
by India Ross
New Statesman
17 April, 2014 – In Rebel Without A Cause, from 1955, a 24-year old James Dean, red-jacketed and tight-jeaned, climbs behind the wheel of an old black Mercury. To his right, the opponent he will race to the edge of a cliff hangs out of his driver-side window for a last slug of bravado: "Hey Toreador!", he jeers. "First man who jumps is a chicken." Re-inserting a trademark cigarette, Dean flicks on his headlights and hits the gas, and the two cars accelerate towards the brink. Frames from the edge, Dean glances right, grabs for the door and rolls out onto the turf. His adversary, jacket sleeve caught on his door handle and jammed into his driver's seat, slips wrenchingly over the edge with his car.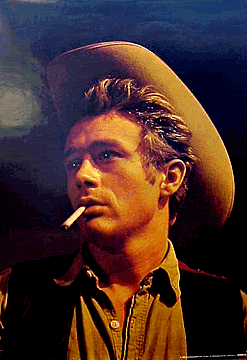 Less than a year later, the real life James Dean, whose legacy is the subject of an upcoming retrospective at the BFI, was to die in an echoing event, flipping a race-car on a bend on a California highway. A life mesmerisingly truncated, he left behind only three films, and the gaping absence of the career that might have been. It was a sequence of events morbidly inkeeping with the themes of doomed youth his characters embodied.
The word "iconic" is tossed around ad nauseum, but if ever it were to apply, in the sense of an individual and a star whose off-screen persona outshines the sum of their roles, who bends the fabric of the society in which they live, Dean would surely qualify. In life, and even more so in death, the bee-stung darling of early Technicolor has held the awe of the movie-going public.
But facial anatomy and excellent hair were not the traits for which Dean was influential. Hollywood does not suffer a shortage of cheekbones. He slotted into a blurry interlude following the second world war but before the flowering of the Beat movement, in which the role of a man in society was under sudden and unsuspected dispute. A generation primed for combat found itself at a loss of purpose, and gender roles that were without meaning overnight began to merge and reconfigure themselves.